With over 42% of Canadian households using Amazon Prime, many wonder if Amazon.com shipping to Canada is possible. Despite how near the United States and Canada are to each other, some still have difficulties getting their products shipped from the Land of Liberty to the Great White North.
That's why we will dig further into "how can you order from Amazon.com and ship to Canada?" and find out how much the Amazon.com shipping rates to Canada cost, plus some facts on Amazon.com to Canada and the time it takes to receive your parcel.
Can you order from Amazon.com and ship to Canada?
If you're a keen Canadian online shopper, you must be wondering if Amazon.com shipping to Canada is possible. The simple answer is yes. Just check out your order from the e-commerce website and have it shipped to your address in the Great White North.
Let's take a look at how you can ship your items from Amazon.com to Canada; we've gathered different ways to help you out.
Door-to-Door Delivery
The first way you can have your parcels shipped from Amazon U.S. to Canada is through a door-to-door delivery service. Some people also call it standard ground shipping—it's where your purchased items travel from the warehouse to your doorstep. This way is the most convenient method to have your goods shipped from Amazon U.S. up north.
Express Shipping
Express shipping lives up to its name because it means you can get your purchased goods as quickly as possible. But, it also means you have to pay more. This method of shipping is perfect for lighter items such as school supplies and accessories.
Cross-Border Shipping
Among all the ways you can ship your items from Amazon U.S. to Canada, border shipping would be the best option to save money. This method allows anyone from Canada to have a U.S. address where your orders arrive and pay less because you'll only have to pay for cross-border fees afterward. Since your parcel will travel from the U.S. address of the company you'll use to have your purchases delivered in Canada, it would also take some time before your items arrive at your doorstep.
Amazon.com Shipping Rates to Canada
Are you planning to shop at Amazon U.S.? Before you do, compute the Amazon.com shipping rates to Canada using USPS, FedEx, and Golden Express Guaranteed.
USPS
If you're looking for several ways to ship your items from Amazon U.S., the United States Postal Service has a bunch of options you can choose from. From different pricing options such as Priority Mail International starting at 36.35 USD, Flat Rate Shipping at 26.90 USD for its base price, and Express International with a starting price of 45.95 USD.
FedEx
FedEx is another shipping service that allows you to receive your Amazon U.S. purchases in Canada. They offer the following options: FedEx International Ground, which has a base rate of 21.97 USD, FedEx International Priority, which costs 88.36 USD for its base rate, and FedEx International Next Flight, starting at 402 USD.
Golden Express Guaranteed
USPS and FedEx partnered for Golden Express Guaranteed (GXG), offering a premium service for those who want to receive their Amazon parcels on a precise date. This option also allows customers to have their shipping fees refunded if the courier can't deliver their package within the promised time. The base rate for GXG costs 67.80 USD.
Amazon.com to Canada: Time It Takes to Ship
Everyone knows that the United States and Canada are right beside each other. That's why most delivery times happen as soon as one business day, or six to ten business days based on the shipping option you choose. Keep in mind that shipping delays can still happen because of external factors such as weather conditions, maritime problems, and traffic.
Final Thoughts
Can you order from Amazon com and ship to Canada? Yes, you can! Amazon.com shipping to Canada is possible with the help of USPS, FedEx, and GXG.
Suppose you have plans to order from Amazon U.S. and deliver it to your address in Canada. Before you purchase your goods, be sure to check the Amazon.com shipping rates to Canada together with the length of delivery based on the Amazon.com to Canada and the time it takes for your parcel to arrive.
If you are curious about the best cross-border shipping rate for you, feel free to check out the Amazon FBA shipping option by Stallion Express and contact our experts at 877-863-7447 for more information.
Customers will have confidence in supporting your products once you say the three magic words: "Shipped by Amazon." But first, you have to master how to ship directly to Amazon FBA. It might be confusing as you start learning the ropes. Eventually, everything will be worth it because you don't have to worry about the time-consuming order fulfillment process. Plus! You will have the chance to offer your products to ready-to-buy Amazon Prime members worldwide. 

This guide will teach you everything you need to know, starting from setting up your account for FBA to creating a shipping plan. Plus, we will answer the common FBA shipping questions at the end of this article. Questions about Amazon FBA shipping rates, the supplies needed for shipment, FBA international shipping, and more. Here's a quick overview of what we will cover:

Amazon-related definition of terms
Set up FBA account
Assign a new product for FBA
Prepare products to be "eCommerce-ready"
How to ship directly to Amazon FBA
1. Product selection
2. Set quantity
3. Prepare products
4. Label products
5. Preview/Review shipments
6. Prepare shipment
Amazon fulfillment services tracking
Common questions when you ship directly to Amazon FBA
Now, let's dig in:
Amazon-related definition of terms
If you're a newcomer, you will find yourself googling a couple of terms that you will encounter while selling on Amazon. Although starting an Amazon FBA business doesn't require a steep learning curve, a little knowledge about the so-called "Amazon-speak" can help you make an informed decision. Here are a few terms you should know:

FBA (Fulfillment by Amazon) is a fulfillment service where you let Amazon store your products in their fulfillment centers and allow them to pick, pack, and ship it to your customers. Moreover, Amazon will handle your returns and customer service.
ASIN (Amazon Standard Identification Number) is a ten-digit alphanumeric code that uniquely identifies products on Amazon. Whereas, every time a new product is created, an ASIN is assigned to it. You can find it in the product details page.
FNSKU (Fulfillment Network Stock Keeping Unit) is how Amazon identifies a product as distinct to you, the seller, that has sent it to Amazon's fulfillment center.
MSKU (Merchant Stock Keeping Unit) is a barcode that Amazon uses to keep track of your inventory.
UPC (Universal Product Code) is a barcoding scheme used in the United States for retail packaging that consists of 12 digits.
FTL (Full Truckload Shipping) is perfect if you're transporting large or high-risk shipments. It is also ideal when your shipment can fill a full truckload, or you want a dedicated truck for it. This method is faster but more expensive.
LTL (Less than Truckload Shipping) is an affordable option for small business owners. However, you will share a space with multiple customers.
SPD (Small Parcel Delivery) is the best way to ship fewer than two pallets. Take note that it is in loose cartons and not on a pallet.
BOL (Bill of Lading) which means "a list of cargo," is an important document between you and the carrier. It is used for a receipt for goods, contract for carriage, and evidence of title.
Set up an FBA account
As advised by Amazon, it would be better to register right away for FBA as you sign up for a Seller Central account. In the Billing/Deposit section, tick the checkbox labeled "Fulfillment by Amazon," as shown below: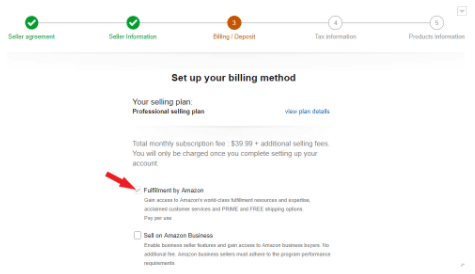 Or via a link at the bottom of the Seller Central page if you have an existing account. Once you click this link, you will be directed to this page: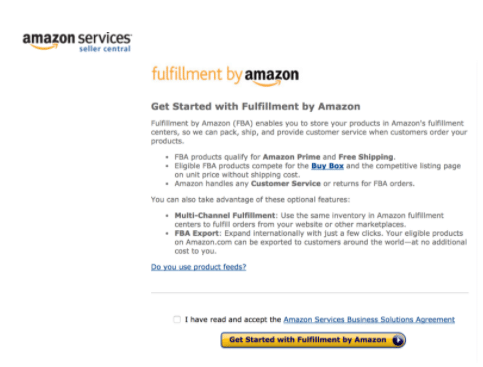 Amazon highly recommends this method rather than directly converting your listings as it will ensure you of all the functionality you need to get started with FBA.
In case you're still in the "deciding mode" of whether to opt for FBA or not, you can choose a Fulfillment Channel while you're creating a listing or assign an existing one to FBA as you prepare your inventory for shipment. First, let's discuss the option where you're creating a listing.

Assign a new product for FBA
Before you create a new listing, take note of the following:
It isn't in Amazon's catalog. Otherwise, all you need to do is create a new offer under the existing listing and add it as you prepare the product for shipment.
The product you're offering doesn't belong in the FBA restricted categories. Otherwise, you need Amazon's permission first before selling that product.
Now, let's go straight ahead on the part where you can choose a Fulfillment Channel by following the steps below:
Login in to your Seller Central account
Go to Inventory > Add a Product
If the product is new, click on "Create a new product listing" link.
Classify your product's category.
Next is filling in the Listing Info.
After you completed the Vital Info and Variations tabs, go to the Offer tab.
On the Offer tab of the Listing Info, you will find the Fulfillment Channel at the end of the page.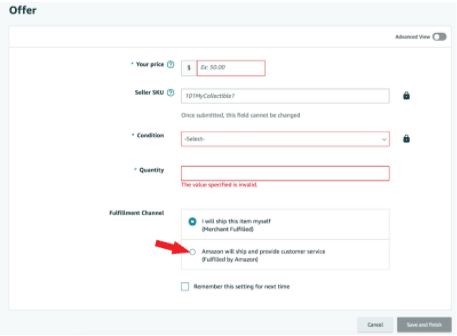 The Fulfillment Channel has two options, either you will fulfill the orders yourself or let Amazon do it. This is how you assign a new product for FBA.

Prepare products to be "eCommerce-ready"
Amazon requires that your inventory be "eCommerce-ready" before transporting to their fulfillment centers. If you fail to do so, you will experience a delay and additional charges due to unplanned services. You have an option to prepare the products by yourself or let Amazon do it.
What is an "eCommerce-ready" product? It is a product that follows the strict and ultra-specific Packaging and Prep Requirements of Amazon for FBA products.
How strict are FBA prep requirements? Let's cite some examples.
If it is made of glass or fragile, wrap it in bubble wrap or put inside a box. It should not break even if it is dropped on a hard surface. For liquids in plastic bottles, you must tighten the lid of the container and place it in a transparent bag or apply a second seal. The bag must be sealed to prevent leakage. If it is packaged as a set and sold as a single item like multi-packs of food, seal it with a shrink wrap, a box, or a bag. Then put a "Sold as Set" or "Ready to Ship" label to the package.
For the complete guidelines, go to this link and better read it carefully to avoid unnecessary and costly consequences.

How to ship directly to Amazon FBA
First and foremost, ensure that you inform your supplier, manufacturer, or freight forwarder that Amazon will get your inventory from them for shipment. Moreover, the packages must be "eCommerce-ready" and better ask your supplier or freight forwarder additional information such as the number of cases, size and weight of cases, the weight of each item, number of items per case, and shipping address. In Stallion Express, we will provide the US "Ship From" address, which you can use when you start to ship directly to Amazon FBA, plus other shipping details you need from us.
After you settle these things, go to Inventory > Manage Inventory in your Seller Central account, and perform the following: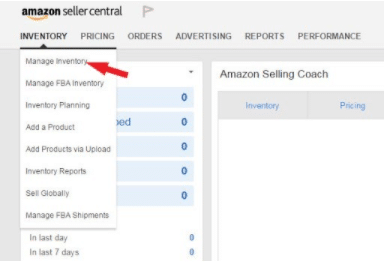 1. Product selection
In the Manage Inventory page, choose the products you would want to ship directly to Amazon FBA by ticking the box next to the item: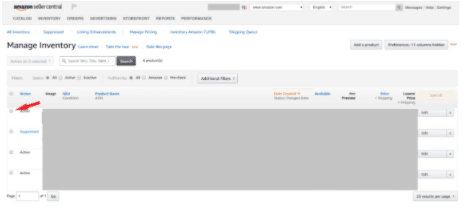 Select Change to Fulfilled by Amazon in the Actions pull-down menu. After this you may either select:
Convert & Send Inventory = if you're ready to create a shipment.
Convert = when you just want to ready the products for FBA shipment.
Select Send/Replenish Inventory from the Actions pull-down menu. When you're at this part, you may create a new shipping plan or add items to an existing shipping plan on this page.
After this, enter the Ship from address, the location where Amazon will pick up your products. If you want to change it, click Ship from another address link.

Determine the Packing type of the products that you will ship directly to Amazon FBA. You have two options, either individual products or case-packed products.
Once you're all good, click on Continue to create a shipping plan.

2. Set quantity
The first part of the shipment creation workflow is the Set Quantity page. We suggest that you ensure you're providing the correct details (Information required) and remove the prohibited products (Removal required) before proceeding.
Then, you may now set the quantity per product in the Unit per Case and Number of Cases textboxes under the All products tab.
In case you want to add more products to your shipment, click the Add Products button. You may add a product by searching its name, ASIN, or MSKU. But make sure that you already converted that product to FBA. If you haven't, return to step no. 1.
Everything's a-okay? Click Continue.
3. Prepare products
Next, you must see to it that all your items adhere to the product preparation requirements. This is the purpose of the Prepare Products page.
It shows you how you should prepare a product based on its category. There are seven prep categories: Fragile, Liquids, Textiles, Plus/baby, Sharp, Small, and Adult.
In the Who preps drop-down list, you may choose who will prepare your products. If you select Amazon, FBA will do it, providing that it has a UPC. Otherwise, you may do it yourself by selecting Merchant.
After everything's in order, you may now move forward to the labeling part.

4. Label products
On the Label Products page, check which products require labels by selecting the Labeling required tab. Enter the number of labels in the # of labels to print column and click Print labels for this page button to start printing. Labels are printed with FNSKU.

5. Preview/Review Shipments
You will have a chance to review and later approve your shipping plan in the Preview Shipment page. You may do this by clicking the View shipment contents to view the contents of each shipment.
After making sure you haven't missed anything, click Work on shipment to complete the shipment. Take note that if you do this action, the page turns to the Review Shipments page.

6. Prepare Shipment
In the Prepare Shipment page, you will set on how you want to deliver your inventory to Amazon's fulfillment centers by selecting your preferred Shipping method and Shipping carrier. There are two shipping methods, namely, SPD and LTL.

For SPD (Small Parcel Delivery):
Choose your preferred carrier and type the number of boxes in the Set number of boxes. Once you enter the weight and the dimensions of each box, click Calculate to estimate your shipping charge. Select I agree to the terms and conditions and hit Accept charges.
It is now time to start printing the box labels, and you can do this by clicking Print box labels. Stick the FBA shipment labels to the boxes.

For LTL (Less than Truckload):
Select your chosen carrier and then indicate the number of boxes and the number of labels. Click Print box labels and affix them to the outside of each box.
Next is preparing your pallet. Enter the height and weight of your fully packed pallets and their quantity. Enter the shipment date under the Freight-ready date of when it will be ready for pick-up.

Check the contact information first for correctness. You may now select your freight class from the drop-down list. Click Calculate to get your estimate and select I agree to the terms and conditions. Hit Accept charges.
Proceed to print by clicking the Print box labels. Post the FBA shipping label on each pallet.
You've now completed your first shipment! Congrats! But it doesn't end there because you can't relax yet until your shipment arrives safely at Amazon's fulfillment centers. This is where the Summary page in the shipment creation workflow will come in handy.

Amazon fulfillment services tracking
The Summary page lets you track your shipments, review its contents, and show you the fulfillment center's receiving status. In case any problems arise, you will be notified on this page and in the Shipping Queue.
Take into account that you must provide tracking numbers (for SPD), or BOL and freight numbers (for LTL and FTL) if you're not using an Amazon-partnered carrier. This is required if you want accurate Amazon fulfillment services tracking.
If you encounter any discrepancies, you can fix it in the Reconcile tab of the Summary page.
Now, let's discuss your pressing questions about Amazon FBA shipping.
5 Common questions when you ship directly to Amazon FBA
What are Amazon FBA shipping rates?
The rates are calculated based on the dimension and shipping weight. It has three categories, such as FBA Small and Light, Standard, and Oversize.
FBA Small and Light have a max dimension of 16" x 9" x 4", weighs 4 oz. or less, and costs $1.97 per unit. For Standard size tier, it starts at $2.50 with a dimension of 15" x 12" x 0.75" and 10 oz. or less. On the other hand, Oversize size tiers are products with 60" x 30" and 71 lb or less. Its starting rate is $8.26 + $0.38/lb above the first 2 lb.

Is there a Fulfilled by Amazon international shipping option?
Amazon has your back if ever you wanted to expand your online business worldwide. This is possible when you register and launch with Amazon Global Selling.
You can also opt into FBA Export, where your products become eligible and available for export. Amazon will pick, pack, and ship your products to the customer at no additional cost. Enable FBA Export in your Seller Central account by clicking Settings > Fulfillment by Amazon > Export Settings. Remember that only standard-size units are eligible for this program.
How much is Amazon shipping for FBA Export?
There are two types of FBA Export. First is through Amazon, which you don't have to pay anything. The second one is through Multi-Channel Fulfillment which comes with a price, as shown in the table below:

Does Amazon FBA pay for shipping?
Here's how it works. You will pay for storage and fulfillment. But Amazon FBA will be the one to pay for shipping when your product is delivered to the customer.

What are the supplies needed for shipment?
Make sure you have the following before deciding to ship directly to Amazon FBA:
Product and shipment prep workspace
Zebra GX430t model printers with a direct thermal setting or a similar model
Scale for weighing boxes
Measuring tape
Printed copies of How to Prep Products and Shipping Matrix
Product labels (if applicable)
Paper for packing slips
Tape
Boxes
Polybags which are at least 1.5 mils thick
Opaque bags for adult products (if applicable)
Bubble wrap
"Ready to Ship" or "Sold as Set" labels
Key takeaways
The hands-off approach of inventory and shipping of Amazon FBA entices both new and seasoned sellers to sign up for it. Imagine letting the Earth's customer-centric company's global logistics empire handle your order fulfillment process while working on more important things like sourcing quality products and advertising.
However, it all starts with properly setting up your FBA account and following the steps above on how to ship directly to Amazon FBA. You must also be proactive in monitoring and tracking your shipment to avoid its loss or damage. Once you do all of these, you will thoroughly enjoy the benefits of using Amazon FBA.
Are you ready to ship directly to Amazon FBA? Stallion Express has experienced consultants willing to help you with your shipping needs and concerns. For inquiries, you can call at +1 877-863-7447 or email [email protected].
Advice on how to save on shipping costs can be found everywhere. However, scouring the web to look for the tips that really work can be burdensome.
So, to save you time, we have formulated an easy-to-remember list on how you can save on shipping locally or international shipping fees.Think of these suggestions as sacred. Whenever you are shipping, create a checklist in your mind to tick before sending packages to different parts of the world. Without any further ado, here are the tips you should remember.
Tip #1: Keep your packaging dimensions to a minimum.
Amazon has a tedious list of packaging and preparing requirements for your items if you sell on this platform. The same goes for other shipping companies. Your shipping costs for eCommerce will depend on the dimensions and weight of your package. So, you might not have a lot of wiggle room in terms of the weight, but you can always adjust the package height and width to save on costs. Here are some tips:
Think ahead and plan your product packaging wisely. How do you ship packages locally? How do you ship internationally? The game plan begins in designing your product packaging. Think not only of the aesthetics when creating your product package but the convenience and economics of shipping. If it's possible to use a compact package, go for it. You will thank yourself for it when shipping. 
Repackage items if boxes are too bulky. If the first suggestion is already impossible to do, your plan B would be to repackage. Repackaging works best for a few items you need to ship. You may opt not to use the original packaging and transfer the unit to a more compact one. On the other hand, if the boxes are too big and can insert more product, you can fit more than one item in a single packaging.
Partner with experts who can pick, pack, and deliver for you. Skip all the hassle and let experts do the packing for you. This choice is more efficient because you will not only save money but time as well. All you need to do is send your partner shipping company an inventory, and they will pick, pack, and send your products. 
Tip #2: Be a standard shipping advocate.
Save on shipping by being a standard shipping advocate. Standard shipping can successfully occur if you plan your shipping calendar. Whether you are shipping a few items or in bulk, going for standard shipping can save you a lot of money. For instance, UPS delivery commitments vary depending on the speed of delivery. Nonetheless, with quick deliveries come higher costs. 
For a detailed computation to know how to save on shipping costs, pricing samples for standard shipping are available online and express delivery costs. See for yourself the dime you can save to inspire you to plan your shipping. 
Tip #3: Know that Amazon FBA is an excellent shipping option.
Shipping via Amazon FBA is another excellent option to cut shipping costs for eCommerce. This process is when your products are shipped to Amazon warehouses. When you get a purchase, Amazon will take care of customer communications and shipping. However, before you get to that stage, you'll need a shipping company to send your packages to Amazon FBA warehouses. You can expect a cheap international shipping fee of  CAD20 for a 15" square box at 30lbs from Canada shipped to Newark, California.
More than the shipping costs you save, Amazon sellers know that FBA is an excellent way to boost Amazon product listing. Using this fulfillment method is like hitting three birds in one stone:
You will have the convenience of shipping.
You will save costs.
You have an instant boost on your listing rank.
Tip #4: Know your options when shipping internationally.
Save on shipping by knowing your options for international shipping. Here are some of the choices you can check.
Partner with a local shipping company. Look for the company that offers the cheapest international shipping fee. Know that you can ship from Toronto to London with a price as low as CAD6.20 for every 4oz weight of a package. Toronto to Hong Kong shipping can be as low as CAD12.19 for every 15oz weight of your item. Your CAD11.16 will allow you to ship from Toronto to Sydney, Australia for every 4oz weight of your shipment. This standard shipping option can send your items to their destinations in 4-12 business days only. 
FBA Export Program. As a seller, do you want to save on shipping? Then this is the fulfillment method for you because it comes at no cost. The buyer will handle all the fees. Though this may seem optimistic, you should also be prepared with the possible challenges, such as buyers turning back after seeing all the costs they need to pay. It is Essential to set expectations with your potential customers regarding the payment they need to handle to avoid negative reviews and feedback.
Shipping via US address. Another option on how to save on shipping costs when shipping in the US is using a US address. Shipping via a US address may come in handy when you have family, friends, and acquaintances there. The item you ordered in America will be shipped to them. Even if you do not know any person in the US, shipping via a US address though a local shipping company is possible. Some companies who provide US addresses and will ship the packages to you. Anything is possible these days!
Tip #5: Partner with shipping experts.
Partner with us here are Stallion Express, and we'll provide you with ways you can save on shipping.
Our Services include shipping within Canada, shipping to the US, shipping internationally, and Amazon FBA. You may also interpret your online stores with Stallion Express for easier transactions.
We do not only offer quality service, but we assure you that we are also among the cheapest shipping service providers in Canada. Contact us at 877-863-7477, so we can explain to you our services. You can also visit our website to know us more.
Customer satisfaction is always at the forefront of any business person's mind. According to a 2019 survey, 38% of retailers are concerned about the expectations of customers regarding delivery time, and 36% are thinking of the expectation for free or low-cost shipping.

Satisfying customers is harder these days. Thus, it's every retailer's quest to find the cheapest shipping rates in Canada so that he can gain an advantage over his competitors. However, just finding an affordable logistics partner isn't enough. Other factors affect local e-commerce, not just the shipping cost. Let's dive into them, shall we?

Seamless Integration
Of all the other factors, perhaps this is the most important. As a retailer, your primary concern is to optimize your business processes so that everything can be more efficient across the board. Everything starts with the fulfillment process, which your e-commerce platform provides. All the relevant information about your customers is, of course, already in the system.

Then, you need to coordinate with your shipping partner to gather the logistical data your customers need. The cost of shipping from Canada will vary depending on the location of the dropoff. In this process, finding a shipping partner with an easy-to-use shipping calculator will be a great advantage.

Next is the tracking information. You should be able to provide a means for your customers to track their packages. This is important because it can give customers ideas on how they can claim their deliveries. Are they going to be home? Do they need to ask somebody else to receive the package? Are there special instructions on how to find their address? What is the cheapest way to ship from Canada to US? Lots of questions come to mind.

Find a shipping partner who can integrate easily with your e-commerce platform, so you can make your delivery structure simpler.

Proper Labeling
Believe it or not, mislabeling a package is one of the most common reasons for shipping delays. The labels shouldn't just specify the item name; it should also include the weight, size, dimensions, and shipping zone of the package. It would be best if you made sure all information is accurate.

Putting the wrong information on a shipping label will make it possible for your package to be misrouted, lost, or even sent to another country. It's also possible for labels to be damaged or mistakenly removed.

Since we've already talked about the importance of integration, finding a partner who can include this process in their services will take a heavy burden off your shoulders. They can make arrangements to integrate customer information with their shipping software and receive the shipping data directly from your e-commerce platform.

Availability of Packaging Materials
This aspect of shipping is so easy to overlook that it has become a legend in logistics circles. Finding the proper packaging materials isn't as simple as some might think. You need to make sure your item fills the box with minimal unused space. Why? Because your shipping company will charge you for the dimensions of the box, not what's inside, though many companies nowadays will also take the weight of the package into account. Mostly, the most important thing that affects shipping price is the dimension of the package. It's about how much space your box takes up in their shipping containers.

Next, you need to make sure your package is sealed tightly, complete with bubble wrap inside to protect the item being shipped. It doesn't matter what kind of item is in a package. Protecting it is the standard with shipping companies nowadays. Other packaging materials include poly bubble mailers, kraft bubble mailers, courier bags, thermal labels, and packing tapes.

Delivery Route Optimization
As any business person will tell you, being on top is hard, but staying there is even more difficult. Your shipping partner needs to ensure that they can continue optimizing their delivery routes while offering you the cheapest shipping rates in Canada. The better they serve your customer, the longer your business relationship will be.

How long does Canada standard shipping take? It all depends on your shipping partner. However, the delivery standard for regular mail sent inside Canada is:
Two business days for local mail
Three business days if within the provinces
Four days for national mail
As mail service goes, that's not too bad. In fact, that's a lot better than most countries' mail service. The mindset is, everything can still be improved.
We're not just talking about using online apps to tell their drivers how to get to an address quickly. It's about doing actual research on how to do everything faster, considering the seasonal variances of routes, cities, and unforeseen circumstances such as natural disasters.

Backup delivery vehicles should always be on standby to ensure your packages arrive at your customer's doorsteps on time.

The Impact of Getting the Cheapest Shipping Rates in Canada on Local E-commerce
As we've discussed, it's not all about the costs. The integration, labeling, packaging materials, and delivery route optimization also affect local e-commerce significantly. As a retailer, you must be able to balance all these things to find the shipping partner of your dreams.

If you have more questions about how to improve your retail business's logistics process, please contact us at [email protected], and we'll be glad to help you. We offer the cheapest shipping rates in Canada, together with the best service.

When it comes to managing your business, you're always looking for opportunities you can grab. These opportunities shall help you expand your business and earn more sales. Among these are shipping from outside your country. If you're living overseas and plan to target the Canadian market, you might think of standard shipping from outside Canada to ship your products.

This is a great opportunity that you should pursue. Based on Pitney Bowes, 62% of retailers offer cross-border selling, and 70% of consumers shop online internationally. The figures show us that consumers and retailers are jumping into the eCommerce business. It has even been estimated that in 2020, cross-border eCommerce shall account for USD 900 billion Gross Merchandise Value.

International shipping shall open you to a lot of opportunities. It may seem scary at first because you're moving out of your comfort zone, but with the right guidance and tips, we're sure that you'll prevail. To help you out in shipping your goods, we'll tackle the difference between standard and expedited shipping and the best shipping services you can avail for your business.

What is Standard Shipping and Expedited Shipping?
Shipping is an essential aspect of your eCommerce business because it's how your customers get to have your product. The way everything is handled affects your customer's impression on you. Moreover, customers tend to have different opinions on the pace of shipping their products.

Some need their items urgently while others are satisfied with the normal delivery time. If you have been ordering online, you may have encountered the terms standard and expedited shipping. These two terms are often interchanged, so to clear any confusion, we discussed the two in detail below.

Standard shipping is what we usually call regular shipping. Since it does not include overnight shipping, the usual delivery time is five to seven days. It's also cheaper than expedited shipping. Less urgent goods can be shipped through standard shipping.

Expedited shipping is faster than standard because trucks carrying the goods rarely stop while shipping the products. These trucks have two drivers who work in shifts for the speedier delivery of goods. Hence, the delivery of these goods usually takes two to three days only. The price is also higher than expedited shipping. Time-sensitive products should be shipped through expedited shipping rather than standard shipping.

Amazon offers standard, expedited, and priority shipping.

Suppose you've been buying or selling on Amazon. Then you may have experienced the terms express and priority shipping. For you to not get confused, the terms express, priority, and expedited have close meanings. The difference lies in how the shipping company uses it. On Amazon, express shipping refers to next day delivery while expedited refers to one to three day delivery time.

Everything you Need to Know about Shipping within Canada
If you are shipping within Canada, these are the things you need to know.

How long does Canada Standard Shipping Take?
Shipping in Canada as a small business, these are the shipping options and times you should be aware of:

| | |
| --- | --- |
| Shipping Option | Delivery Times |
| Standard Shipping | 3 to 6 business days |
| Express Shipping | 2 to 4 business days |
| Priority Shipping | 1 to 3 business days |
| Two-Day Shipping | Within 2 business days |
| One-Day Shipping | Within 1 business day |
Your package shall arrive based on these delivery estimates. 

The seller determines shipping rates within Canada that are not books, music, DVDs, and videos. These rates are pre-calculated, and you can see it on your Order Summary page. However, shipping rates for books, music, DVDs, and videos are fixed.
| | | | | |
| --- | --- | --- | --- | --- |
| | Books | Music | DVD | Video |
| Domestic | $6.49 | $3.49 | $3.49 | $6.49 |
| United States | $7.99 | $7.49 | $7.49 | $7.99 |
| Other International | $14.98 | $7.99 | $7.99 | $14.98 |
Shipping Services in Canada
Stallion Express offers the most affordable and efficient shipping rates for your packages. You can ship anywhere in Canada by using our shipping service. We offer the lowest price on shipping than any other courier service you can think of. Wouldn't you like to save up to 50% of shipping across the country? Plus, you and your customer can track the parcels once you delivered it in our hands to your customer's doorsteps.

For easy tracking and fulfillment of orders, you can integrate your store with our state-of-the-art system. What's more? Your customers can receive your packages within 2-8 business days! Aside from domestic shipping, we offer international and Amazon FBA Shipping too.

Everything you Need to Know about Shipping from Canada to the US
If you wish to ship from Canada to the US, you'll need to know the destination country's policies first. In the US, you will be subjected to customs fees and import duties. We'll talk about shipping from Canada to the US customs fee, documents, shipping price, and shipping services.

Customs Entry and Documents
When you are shipping from Canada to the US, you'll need to follow their shipping policies and cross-border rules. The United States Customs and Border Protection regulates and monitors the trading of goods between Canada and the US. The customs entry can be declared as Section 321, Informal entry, or Formal entry.
Section 321: Shipments with a declared value of $800 or less are not subjected to duty.
Informal entry: These are goods with a declared value of more than $800 and less than $2,500.
Formal entry: These are packages that are worth more than $2,500.
The documents you need when you are shipping from Canada to the US are the following:
Bill of Lading
Commercial Invoice
Electronic Export Information
IRS business registration or Social Security Number
USMCA Certificate of Origin
Customs Duty
Customs duty is also called import tax. To calculate your customs duty, you need to know the right Harmonized Tariff Schedule of US (HTS) codes first. This code represents a type of product that helps the US government monitor goods imported in the country. For a smoother transaction, you can just let the US Customs calculate your duty then pay for it. Or you can pay the import tax before it arrives at US Customs.

Shipping Price
When calculating the shipping fee from Canada to the US, it will depend on the shipping method you used.

Standard International Shipping usually takes 8 to 16 business days.
Expedited International Shipping usually takes 4 to 7 Business Days
Priority International Courier usually takes 1 to 3 Business Days
So, how much is shipping from Canada to US?
| | | | | |
| --- | --- | --- | --- | --- |
| Standard Shipping | Books and Audiobooks | CDs | Videos | DVDs |
| Per shipment | $7.99 | $7.99 | $7.99 | $7.99 |
| Per item | $1.99 | $1.99 | $1.99 | $1.99 |
| Expedited Shipping | Books and Audiobooks | CDs | Videos | DVDs |
| Per shipment | $11.99 | $11.99 | $11.99 | $11.99 |
| Per item | $3.99 | $3.99 | $3.99 | $3.99 |
| Priority Shipping | Books and Audiobooks | CDs | Videos | DVDs |
| Per shipment | $14.99 | $14.99 | $14.99 | $14.99 |
| Per item | $4.99 | $4.99 | $4.99 | $4.99 |
Need a reliable shipping service?
Well, we have you covered. Here at Stallion Express, we will help you expand your business by carefully delivering your packages from Canada to the US. Working closely with USPS, we will make sure that your customers receive your package between 2 to 4 business days. You don't also have to worry about the price because you can save up to 75% on shipping costs. It's genuinely such a great deal. If you wish to know more about our service, you can contact us today.
Everything you Need to Know about Standard Shipping from Outside Canada
Canada is one of the countries that are worth considering when you plan on expanding your business. Based on Statistics, projected revenue in 2020 for the eCommerce industry shall be $29.8M, while user penetration is expected to hit 77.1% in 2024. Moreover, we found out that two-thirds of online purchases by Canadians come from other countries. With this in mind, we can affirm that selling in Canada shall help you reach a new market and expand your business. 
Selling on the Amazon marketplace gives you access to Amazon's customers. It will also be accessible on the part of the customer to purchase products internationally without leaving the market. We'll discuss everything you need to know when shipping from outside Canada.
Know what products can be imported
To start shipping to Canada, you'll need to determine if your item is prohibited or not. It may lead to complications at the border once customs find out that your item is restricted or prohibited from entering the country. Moreover, it's best to check your items first before selling them in the marketplace.
Inform your customers about duties, tariffs, and taxes
When it comes to the duties, taxes, and tariffs, your customers are responsible for it. It's best to inform them beforehand, so they won't be surprised when they see their total bill upon checkout.
There are three taxes customers need to know when importing goods into Canada. These are the goods and services tax(GST), the harmonized tax (HST), and the provincial sales tax (PST).
As for the tariffs, it shall depend on the country where you manufactured the product. NAFTA removes tariffs for products made in the US. However, if it was manufactured outside of the US, then tariffs may apply.
Choose a Shipping Option
There are numerous shipping companies and shipping options to choose from when delivering to Canada.
The most common shipping option is the standard shipping where goods are delivered to Canada in 7 to12 business days. However, there are other available delivery options that they can choose. When giving shipping options, you should present these three because your customers may want the variety. The table below shows the price for each delivery option.
Standard Shipping usually takes 7-12 business days
| | | |
| --- | --- | --- |
| | Prime Member | Non-Prime Member |
| Urban | Free | $4.99/Shipment + $1.49/lb ($3.28/kg) |
| Rural | Free | $6.99/Shipment + $1.49/lb ($3.28/kg) |
| Remote | Free | $36.00/Shipment + $1.49/lb ($26.99/kg( |
Expedited Shipping takes 5 to 9 business days
| | | |
| --- | --- | --- |
| | Prime Member | Non-Prime Member |
| Urban | $3.49/Shipment | $6.99/Shipment + $1.99/lb ($4.39/kg) |
| Rural | $3.49/Shipment | $11.99/Shipment + $1.99/lb ($4.39/kg) |
Priority Shipping takes 2 to 4 business days
| | | |
| --- | --- | --- |
| | Prime Member | Non-Prime Member |
| Urban | $5.99 | $11.99/Shipment + $1.99/lb ($4.39/kg) |
| Rural | $8.99 | $13.99/Shipment + $1.99/lb ($4.39/kg) |
Key Takeaways
Shipping from one place to another does require time and patience. However, customers love it when they receive their packages as quickly and hassle-free as possible. They often like it when they don't have to pay for the shipping fee or get discounts on their shipping costs. Having a variety of shipping options helps a customer choose which would work best for them.
Standard shipping is the most common type of shipping option. It's also cheaper than expedited shipping. However, when it comes to the promptness of the delivery of the packages, it is still better to use expedited shipping. The sad part of it is you have to pay more than the average shipping cost.
What if you find a shipping company that can give you fast delivery at a very affordable price?
Here at Stallion Express, we make sure that your packages arrive at the destination in a smooth and fast way. We also don't ask for exorbitant amounts of money for the shipping cost. Aside from it, we offer full tracking of parcels, friendly customer service, insurance for packages, and integration to our system. Are you interested to know more about our services? Give us a call now, and you'll be able to talk to our friendly shipping agent! 

Most e-commerce sellers make a fair amount of money when working with Amazon. However, most of these sellers limit themselves to only selling to their local marketplace. If you are an Amazon seller, do not commit the same mistake! Selling your products on Amazon globally would allow you to scale your business massively.

In this article, we will provide you a breakdown of the things that you need to know when it comes to Amazon Global shipping and mailing service so you can start selling internationally.
Amazon Global Selling (AGS)
Amazon Global Selling or AGS is a program in which sellers are allowed to list and sell their products in any of the retail giant's marketplaces in the Americas, Europe, Asia-Pacific, and the Middle East.
| | | | |
| --- | --- | --- | --- |
| Europe | Asia-Pacific | Middle East and North Africa | Americas |
| Amazon.de (Germany)Amazon.co.uk (United Kingdom)Amazon.fr (France)Amazon.it (Italy)Amazon.es (Spain)Amazon.nl (Netherlands) | Amazon.jp (Japan)Amazon.com.au (Australia)Amazon.sg (Singapore)Amazon.in (India) | Amazon.ae (United Arab Emirates)Amazon.com.tr (Turkey) | Amazon.com (United States)Amazon.ca (Canada)Amazon.com.mx (Mexico)Amazon.com.br |
Source: Amazon Global Marketplace
Where and How to Start
If you're already certain that you want to expand your business into a new international marketplace, the first thing you need to identify is where.

Once you've decided on which marketplace you wish to expand your business, it is crucial to do thorough market research. There are several things that you should consider such as your end-consumer preferences, culture, language, marketing strategies and most especially, which mailing and shipping services work best for you. Learning these things will help you tailor your products to meet your target consumer's needs. Failing to do so will cause great economic hardship for your business.

Also, it is worth noting that selling internationally is a supply/demand situation. If you decide to get started at an international marketplace, the wisest thing to do it is by starting with your best-selling products rather than your entire catalog.

AGS Fees, Payments, and Taxes
Managing Payments
Managing payments from your Amazon store is not as difficult as you might think. You can get the payment for your products in a couple of ways. You have the option to set up a local bank account yourself or you can make use of Amazon's international payment solution or ACCS. Opting for ACCS will allow you to receive international payments in your local bank account in your own currency. However, you will still need to create an account with Amazon and pay an additional fee for their service and transactions.

Dealing With Local Taxes.
It is expected that you should pay goods and service taxes when shipping goods internationally. Before selling in your chosen international marketplace, make sure that you did an in-depth research about the laws and regulations when it comes to international shipping. It is your responsibility to make sure that you comply with all the local tax laws and make any required payments promptly to avoid back payments and penalties.
Handling Your International Logistics
Finding a reliable international shipping and mailing service is one of the most challenging aspects when selling on Amazon on a global scale. How you decide to fulfill your orders will depend on the quantity and the type of products you want to sell.
You can choose your mailing and shipping done via Amazon FBA or yourself (FBM)
Fulfillment by Amazon (FBA)
Fulfillment by Amazon (FBA) is an Amazon program that aims to make Amazon Sellers' shipping experience hassle-free. Amazon fulfillment centers can hold millions of items so there will be no minimum for the number of products you can send .

You can choose to fulfill orders yourself or use Fulfilment by Amazon (FBA) in all marketplaces.

Some of the biggest benefits of FBA are the following:

Smooth logistics and shipping. FBA allows sellers to outsource the entire shipping process, taking advantage of the company's expertise and experience when it comes to logistics. If your business has higher sales, this would mean extra time handling the logistics- making you perfect for an FBA program.
Discounted shipping rates. Amazon passes discounts on to sellers in the form of reduced shipping costs when sending your inventory to Amazon. Your customer will also benefit from this because plenty of orders on Amazon are eligible for free shipping.
No more dealing with returns. You don't have to worry about angry customers anymore because Amazon will be taking care from inspecting returns to handling all of the administrative aspects. However, take note that Amazon charges returns processing fee for a minimal cost.
Managing customer service. Amazon offers 24/7 support via email, chat or phone. That will ease your buyer's mind, and takes a heavy load off your plate.
No inventory minimums and unlimited storage. No need to worry about storage space because signing up for FBA means you are free to use Amazon warehouses no matter how much or how little space you need for your products.
Fast delivery. With hundreds of Amazon's fulfillment centers all over the world. No matter where you are sending your items, you can rely with them that your products will be delivered within the promised time.
Fulfillment by Merchant (FBM)
Fulfillment by Merchant or FBM is when you choose to be in control of the entire handling of the mailing and shipping process. Instead of paying and shipping your inventory to Amazon, you will be using your own resources to send the item directly to the buyer.

When to Choose Fulfillment By Merchant
When you are selling items that are exclusive, FBM would be the best choice for you. This will build the credibility of your online store and its products. It is also beneficial for small businesses when the mailing and shipping process does not become overwhelming and possibly affect your customer's and Amazon's standards.

The advantages of opting for FBM are listed below.

You can control every aspect of your business.
You don't need to pay additional fees to Amazon.
Growing your brand is more achievable.
Less paperwork for the seller when working directly with the buyer
You have a greater grasp of the inventory in stock, products that sell, and what changes are needed for higher sales.
Since you will be arranging your shipping service provider, you are aware of all finances every step of the way.
FBM comes with several disadvantages as well.
You have to handle returns. Incorrect shipping is a common problem for FBM sellers.
Dealing with angry customers and manage your own customer service
Since Amazon favors FBA sellers to win the Buy Box, you may have to price your items lower than FBA sellers.
Pro Tip: Make sure you hire a reliable shipping service that can perform a highly
disciplined shipping operation to avoid shipping mistakes.
FBM vs Seller Fulfilled Prime (SFP)
It is worth noting that Seller Fulfilled Prime or SFP is different from FBM. SFP is a fulfillment method that is a combination of both Fulfillment by Amazon and Fulfillment by Merchant. Like FBA, you are given access to Amazon Prime customers- and handle the shipping process and the customer service yourself just like how FBM works. To qualify for SFP, you need to meet the several requirements listed below.

You need to have a professional account.
You should have fulfilled a minimum of 30 premium shipping in a span of 30 calendar days with a tracking ID of no less than 94% of orders, have an on-time delivery rate of not less than 96%, and a cancellation rate of no more than 1%.
You must work with Amazon-approved Buy Shipping Service carriers.
A feedback of no less than 4.5 for the preceding 30 calendar days.
It's Your Time to Go Global
Now that you have a greater grasp about the ins and outs of Amazon Global Selling, and your shipping and mailing service options, it is the time to finally go global!

When you sell your goods on Amazon Global, you have limitless options of what to sell and where to sell. A thorough market research will help you identify which market to enter and which of your products are likely to perform well.

When you've established a strong presence in a new country and already comfortable managing your sales, customer service and return, you'll be ready to expand your business into another international marketplace.
If you are looking for a reliable shipping and mailing service near you for your Amazon shipping needs, Stallion express is the company you need. Our company offers the best way to ship internationally and is trusted by thousands of online sellers in Canada. We ship to the US., Canada or even around the world. When it comes to reliable international shipping in Canada, Stallion Express got you covered!