Table of Contents:
E-Commerce Shipping Solutions and Strategies in Canada
Setting Up Your Shipping Rates
Keeping Your Margins Profitable
Turn Your Packaging Into a Marketing Opportunity
Choosing Your E-Commerce Shipping Solutions in Canada
The Types of Domestic Carriers
So you've put in the hours and sweat into making sure your business is geared for success. You've amassed an impressive portfolio of professional product photos, written a high-quality email copy, as well as an "About Us" page that would make the coldest of hearts melt and potential partners eager to work with you.
One elephant remains standing, the final hiccup before you can finally start popping champagne—it's your logistics.
When it comes to eCommerce shipping solutions, most owners feel like they're leaving their beloved brands in the hands of some unknown entity. They can only hope and pray that products arrive at customer's houses. This does not have to be the case, though. With a bit of strategy and organization, you can confidently ship products on their way without feeling uneasy or left out of the process.
In this ultimate guide, we've covered all the ground you'll need, from strategies to the best tools you can use to manage shipments and consistently hit customer expectations.
E-Commerce Shipping Solutions and Strategies in Canada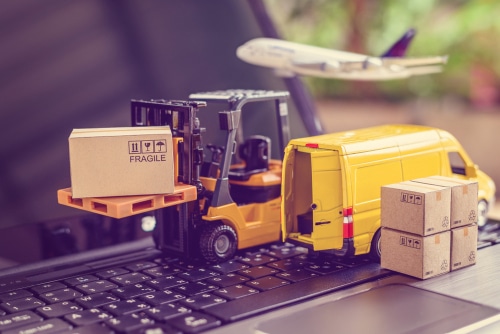 Like all things, successful shipping requires a lot of planning, organization, and implementation. So what choices can you possibly make to ensure a seamless shipping system for your business? Although free shipping appears to be the most appealing and easy method to provide, high Canadian rates can quickly destroy your business if you are not careful. Your shipping plan has the potential to make or break your competitiveness. Consider what is essential to your customers, what your competitors are doing, and how much you can afford.
Some typical objectives of your e-commerce shipping plan may include:
Boosting conversions
Generating new leads
Reducing expenses
Let's review the best practices and strategies for getting around the eCommerce business:
Setting Up Your Shipping Rates
The straightforward objective is to make shipping rates in Canada profitable for you and affordable for your customers. Common options are to pass on the whole cost to your customers or absorb some of it to offer flat-rate or free shipping. Let's explain them further:
Most customers will jump at the opportunity to get free shipping, and most online merchants find this to be the best way to improve cart conversions on abandoned items. However, is free shipping truly "free"? Practically, nope. Someone will have to shoulder the cost, whether you, the customer, or the courier. Nevertheless, here are some of the ways and means you can enable free shipping:
Pass it to the customer: Raise your product prices enough to cover the shipping costs.
Shoulder it: You absorb the shipping cost by taking it out of your margins.
Let the customer shoulder half: Increase the prices enough to cover a portion of the shipping costs.
Discounts: Set promotional offers for sure customers (e.g., specific order volume)
Offering Free Shipping is one of the best ways to lure indecisive customers or attract new ones. However, if you're genuinely confident with your product's demand, passing it on to the customer is usually the best plan of action.
Offer Live Customer Prices From Your Courier Options
Shopify, Woocommerce, and other E-commerce platforms offer partnerships with many Canadian domestic couriers. These usually come in the form of plug-ins, which you can upload directly to your store page. These plug-ins allow your customers the freedom to choose from a wide variety of options instead of showing them a pre-calculated cost on the checkout page.
Local deliveries are an excellent strategy for online stores looking to offer easy and convenient shipping to their local customers. To limit your delivery zone, you may choose a radius or a list of zip/postal codes when setting up local delivery. Customers located in your selected delivery zone will have the option to select "local delivery" as a shipping method when making a purchase. Offering free or discounted local delivery beyond a certain order amount might help you save money on shipping while also enticing more local customers.
With the in-store pickup, you avoid shipping altogether while still providing excellent customer care. You may enable the "local pickup" option in your eCommerce platform, which allows your customers to pick up their orders from you in person. This is most effective if you have both an e-commerce and a physical business. You'll cut shipping price and cost, and customers will have the option of picking up their orders faster at the local store.
Customers may be more encouraged to visit your site and may return in the future if you provide a discount for local pickups. And don't worry about profitability; you can always upsell and encourage them to spend even more when they come to pick up the items.
Fixed-rate shipping is often the most convenient option because the exact amount is charged regardless of order weight or size. This is most appropriate if your items are comparable in size and weight or if the bulk of your consumers purchase similar quantities. If not, you risk overpricing and losing customers or undercharging and losing profits.
Customers value flat rate shipping for the same reason that company owners do: it is easy and obvious, removing the guesswork from determining costs.
Additionally, you may opt for flat rate shipping in your marketing strategies. A statement like "Shipping is always $5.00" has a natural appeal because of its simplicity and clarity. It may inspire consumers to acquire more goods without worrying about high shipping charges.
Table rates employ a set of criteria to determine shipping rates depending on factors such as weights and sizes, shipping classes, order totals, destinations, and the number of products ordered. As a result, they provide the most excellent customization possibilities and are especially useful if your catalog is highly variable in shape, size, or type.
Here are some scenarios of rules you can apply:
Shipping is free if orders add up to $100 or more.
If shipping is anywhere within Vancouver, the delivery fee is waived.
The shipping fee is $5 for any packages weighing equal to or less than £10. Any item weighing over £10 will be charged $10.
Mix n' Match Strategy
If you can't decide which shipping technique to utilize, mix and combine them to find the best fit for your company.
One typical technique is to provide free delivery for purchases that meet a specific total. For example, you may charge a flat fee for orders under $50 and provide free shipping for over $50. If your typical order size is $30, this strategy may be wise; it encourages customers to add more to their carts while preventing you from losing money on shipping expenses.
If your order sizes, product weights, and prices vary, you may provide free shipping for USPS Ground only and compute real-time charges for quicker delivery choices.
As part of a more comprehensive marketing plan, you may also provide free delivery for a short period. If you typically charge for shipping, this is an excellent method to boost sales during a specific holiday or time of year.
Packaging methods
Another aspect of accurate shipping rate calculation is the packaging. As a rule of thumb, the more compact the package, the less you'll pay for shipping. But this isn't a green light to compromise on packaging. Instead, aim for a balance between compactness and durability so your product can arrive at the customer's door in one piece.
Couriers usually base the price on how much the product weighs or how much space it takes on their vehicles. The space taken up by the item or its volumetric or dimensional weight is calculated by multiplying the package's length, width, and height and dividing it by a cubic divisor. Courier services will usually compare the cost between the dimensional and the weight, charging you with whatever's higher. There are a wide array of standard packaging options you can choose from, depending on the product you're selling:
Boxes: For those just starting, carriers like FedEx, UPS, and USPS provide free branded boxes in standard sizes. You may also consider having something produced just for you and branded with your company's logo.
Padded envelopes: These are ideal for books, DVDs, jewelry, and fashion accessories, as well as other small things that may require additional protection during shipment.
Poly mailers are a common, low-cost alternative for non-fragile products such as clothes. It is lightweight, which can significantly reduce shipping costs. However, while selecting poly mailers, make sure they are made of sturdy material since most of the ultra-cheap ones tend to rip quickly if they catch on to sharp objects like hooks.
Most couriers charge based on size and/or weight, so you have to keep your packing as small and light as possible. This will not only save you money on shipping and how much your customers pay, but it will also minimize the effect packing expenses have on your profit margins.
Depending on your company and product line, you might wish to stock various container sizes and packing materials.
Keeping Your Margins Profitable
Most store owners don't take margins seriously enough, and by serious, we're talking details. So before finalizing your shipping strategies and choosing your couriers, it's best to determine first if you're going to make a buck in the process.
What are gross margins, and how do you compute them?
A company's gross margin determines how much money it keeps after deducting the costs of producing the product it sells and/or providing the service. The gross margin is the difference between its revenue and its cost of goods sold (COGS) divided by its revenue. It is shown as a percentage.
The gross margin formula is as follows:
Total Revenue / (Total Revenue – Cost of Goods Sold)
Let's look at it practically: Assume you have a product that costs $20.00 to make, $8.00 to transport and $5.00 to package appropriately. Your total cost, less any profit, is $33.00.
To achieve a 40% profit margin, you must charge the customer a total price of $46.20. As an example, you might offer the goods for $38.20 plus $8.00 for delivery. Offering free delivery reduces your profit margins to 15%. You may also charge consumers a percentage of the delivery fees, putting you somewhere in the center.
The higher a company's gross margin, the more revenue it gets for every penny earned. Higher margins might indicate whether or not your firm is profitable and whether or not sales are up.
What is a good profit margin?
By now, you should be asking yourself, "What's a good number for profit margins"? The best profit margins depend on a lot of variables like your location, niche, and others. Retailers, in general, show the lowest profit margins compared to other industries. However, the rise of eCommerce has pushed up the retail margins for most store owners. As a general rule, a 10% margin is a decent average to aim for, with 20% being "excellent" and 5% being "low."
How do I improve my profit margin?
The best way to achieve your profit margin is to reduce your Cost of Goods (COGs) or other business expenses, which is usually achieved by increasing economies of scale or outsourcing some processes like packaging or lead generation to ultimately increase your business' efficiency profitability.
Turn Your Packaging Into a Marketing Opportunity
The expectations of online buyers evolve along with the world of eCommerce. In the past, packaging and shipping were just methods of acquiring a product bought online; but, as the online shopping experience advances, buyers increasingly seek reasonable shipping, good packaging, and presentation. Outside of selling, this expectation implies that for many brands, competing effectively requires going above and beyond to bring that "WOW" factor and surpass their expectations by offering an experience of nostalgia, not simply a product.
Small details like these go a long way toward making a lasting impact on customers in a world where sealed factory bags and black-and-white purchase receipts are the norms. Today's most successful and intriguing businesses are those that use packaging to provide an unpacking experience that extends beyond the product.
Consider how your packaging can improve the consumer experience and utilize it as your brand's extension.
Tracking and insurance
Insuring your products gives your business some leeway for when the worst-case scenarios occur. In addition, insurance and tracking are reasonably affordable with most carriers and offer you a payout if one of your goods is lost or damaged.
It is critical to recognize which goods are and are not insurable. If the insurance provider does not insure what you are delivering or the shipment destination, it may be prudent to consider using unbranded, well-packaged boxes to avoid theft. Every carrier and insurance provider has Terms of Service that outline their limitations. This will save you from the hassles that might result from rejecting claims for insurance packages that contradict company policies.
After reading the terms and conditions of the policy, you should generally evaluate two crucial facts: The estimated possibility that your goods will be damaged or stolen and the value of the item. Following an assessment, you should be able to decide whether or not your items require insurance.
Records of previous shipments that were lost or damaged are another excellent approach to determining insurance requirements. If you are experiencing more than usual difficulties with your shipments, it's a good move to calculate the figures and determine whether the expense of additional coverage is worthwhile.
Choosing Your ECommerce Shipping Solution in Canada
In the previous section, we've discussed in detail the best shipping methods and strategies to help you achieve your business goals. With that over with, it's time to decide who should handle your shipping as well as how to choose them. Firstly, we'll touch on the common domestic solutions available on the market.
The Types of Domestic Couriers
Postal Couriers
Some postal couriers include the United States Postal Service (USPS), Singapore Post, Hong Kong Post, Canada Post, and Australia Post.
In many situations, postal couriers provide cost-effective pricing, making them the first choice for eCommerce brands looking for economical and reliable delivery solutions.
Express Couriers
An express courier is a private firm that specializes in time-pressured parcel shipping companies in Canada. Because these couriers typically provide faster parcel delivery services in Canada with all the bells and whistles (such as regular tracking updates and greater delivery flexibility), their price is higher and influenced by more factors.
Regional Couriers
Regional couriers, as the name implies, are shipping firms that only deliver inside a specific region. Finding a reputable regional courier that serves the locations you need might give you the best of both worlds, as they may offer more competitive prices than express couriers and faster services than a postal courier.
It can be challenging to pick the best domestic container shipping companies in Canada for your business with the vast array of options available in each category. However, you can use this to your business's advantage by, again, mixing and matching all the options into a convenient package your customers can choose from. Here are some of the advantages of diversifying your domestic shipping options.
Minimizes Exorbitant Shipping Expenses - Certain domestic couriers can provide competitive prices to various regions. If your clients are not all in the same location, you might profit from a lower rate than your major courier offers.
Flexible Options for Your Customer - Every client has a delivery preference. By providing additional shipping alternatives with a wider variety of delivery dates and prices, you will appeal to a more extensive customer base.
Tracking Services aren't Made Equal - If you use a low-cost option, you are most likely obtaining a restricted tracking service (if you even get tracking at all). Offering regular or frequent monitoring helps minimize the risk of your goods going missing while also keeping your consumers up to date on where their package is.
When delivering domestically, consider partnering with various reputable carriers who can satisfy your delivery demands based on your customer's location and delivery time expectations.
As shipping expectations vary with each customer, it's best to have three shipping alternatives, each with an emphasis on one of the following:
Quick delivery
Affordability
Value
Stallion Express
Stallion Express is a shipping solution that offers plenty of features for small to medium-sized companies. It doesn't cost a dime to sign up for an account, plus you can generate shipping labels or submit manifests on the website before you drop it off at any of their locations or schedule a pickup. Domestic services cover anywhere between Vancouver to Montreal. In addition, Stallion Express offers one of the most competitive rates on the market, allowing you to save up to 40% on nationwide shipping with a full tracking service from drop-off to the customer's front doors.
The usual lead time for delivery is 2-8 business days. Stallion Express also makes it convenient to organize a seamless shipping system by integrating with common online store platforms like Amazon, Shopify, Etsy, or eBay so you can manage and track all orders in one place.
Conclusion
Shipping is undoubtedly a challenging component of any online operation. Time plus a bit of experimentation is needed to determine what works effectively for your new eCommerce site, as it will for several other aspects.
Understanding all of the variables and adapting your shipping plan as your company grows is critical to its long-term health and profitability. So, if you think you've got it figured out, don't throw it away. Instead, reevaluate every six months to ensure you're giving your clients the best service and experience possible at the best value. Partner with Stallion Express for more straightforward domestic solutions that won't break the bank!
You can't run an e-commerce business without thinking about shipping. Nothing affects so many parts of your business more than your delivery system. In fact, some shoppers abandon their carts when there's no free shipping.
The need for good shipping services in Canada is absolutely crucial for any business, especially when it comes to e-commerce. If you are looking for excellent shipping software to make your business run more smoothly, here are the things you should be on the lookout for.
Know Your Shipping Volume
Whatever the size of your e-commerce business is, your logistics partner should provide you with shipping software that can accommodate your sales volume. If you are a small business shipping in Canada, determine how much you expect to ship at your busiest time and find out if your shipping partner can handle that. Then, get favourable rates from them. The cheaper, the better.
Determine How the Shipping Software Benefits You
There are a few questions you should be asking yourself regarding the benefits of shipping software to you and your business.
How will it help me run my e-commerce business more efficiently?
Can I still use this software if I plan to scale my business and expand to international markets?
Is standard shipping from outside Canada possible with this software?
Apart from the software, you should also scrutinize the shipping company offering it. First and foremost, their customer service should be impeccable. They should be ready to assist you whenever you encounter problems with the software. The company should also be an authority in the shipping industry. They should have resources on their website that you can peruse to help you navigate the software and do your e-commerce business better.
E-Commerce Integration
Managing your e-commerce business with shipping software is a norm nowadays. Choose something that will make it easier for your customers to know how much the shipping fee will be when they order something. It's also a big help to eliminate the housekeeping process of sending shipping information to your logistics partner every time someone orders.
Integrating your platform with the software makes things a lot easier for you. It should work with most major e-commerce platforms, such as Amazon and eBay, or even your online retail website. The software should also include a shipping calculator.
Evaluate the Ratings and Reviews
More than 50% of consumers check online reviews before buying a product or service. You should do the same when checking out shipping software. By consulting these reviews, you'll know a little bit about how the shipping software can fit in your daily business operations.
Once you've narrowed down your list, try to contact current customers of your prospective choices and ask them about their experiences. That will give you an idea of what you'll experience when you're using the software. Alternatively, do crowdsourcing on social media and ask people's opinions about these companies.
Make Sure of the Quality of Shipping Materials
If you decide to choose software provided by a logistics company, find out if they also offer shipping materials. Many people overlook this aspect of the business. Of course, you can buy your own, but it would make it much simpler if shipping materials were included in the service you're provided. Shipping prices in Canada include the cost of packaging materials.
One Software to Rule Them All
Whether it's going to or from Canada, shipping packages should be simple and affordable. That's why it's essential to find shipping software that makes it easier for you to run your business—just one software, instead of multiple ones, to get the job done. Choose the most powerful one, and you won't be sorry.
Contact Stallion Express for more information on e-commerce shipping services in Canada.
If you're looking into Fulfillment by Amazon (FBA), your mind must be filled with questions regarding FBA shipping rates and Amazon fulfillment shipping rates. These become more troubling once you expand your business internationally, especially in the US. 
We got you! Included herein are the details about Amazon FBA, so you can finally decide whether to include it in your operations.
What is Amazon FBA?
Fulfillment by Amazon (FBA) or Amazon FBA is the eCommerce platform's fulfillment service. With Amazon FBA, you can store your products at Amazon fulfillment centers. When you get an order, Amazon will take care of the shipping. You can avail of the many other benefits Amazon offers if you use Amazon FBA. Amazon provides complete information on the fees you need to prepare for the fulfillment shipping rates.
Amazon FBA shipping rates: Details to Remember
There are Amazon services you will get for free, but most of them are offered with fees. Knowing which services are free and which will add to your costs will help you plan your Amazon FBA spending and manage your expenses.
FBA Export Program - First among the free services on Amazon FBA international shipping rates is FBA Export. FBA Export covers your global shipping needs. You can avail of this service at no cost. Nonetheless, note that the spending will all be transferred to and handled by the customer.
Amazon FBA rates - General rates are computed based on the dimensions and weight of your package. Sizes are classified into standard and oversize measurements. Note that calculations differ depending on whether your product falls under the apparel or non-apparel categories. The platform has an easily accessible shipping rates calculator to get an idea of how much you need to pay. Fees apply for every unit sold, and the charges vary if you have a professional or individual seller account.
Here are the other fees that may apply:
Storage fees paid monthly
Expenses paid for long-term storage
Returns from the customers processing fee
Fees for removing items on Amazon storage
Fees used on completion of packaging according to Amazon guidelines
All these details are available on Amazon Seller Central. You have full access to all spendings, reimbursements, refunds, and fees you need to pay. To avoid unneessary expenses, be aware of the charges mentioned above.
Selling dangerous goods - Do you sell products classified by Amazon as hazardous goods? Some items under dangerous goods are different kinds of batteries. Chemicals used at home like cleansers, dishwashing liquid, and laundry detergents fall under this category. Even perfumes, essential oils, and more personal use chemicals are considered hazardous goods. Check Amazon's list of hazardous goods to know if your product falls under this classification. Expect international FBA shipping rates and Amazon Canada FBA shipping rates to incur for dangerous goods.
Multi-Channel Fulfillment - Do you have stores in other eCommerce platforms and websites but want to use Amazon FBA? Multi-channel fulfillment is the service you need. Add this detail to your international shipping rates checklist of components to explore. This is an efficient way of storing your products on Amazon warehouses in the US and selling them to your US clients. Whether you are selling on Shopify, Etsy, or eBay, Amazon FBA is open for you.
What Stallion Express Offers
We will deliver your packages to Amazon warehouses at a lower cost. Our team will handle Canada to US customs clearance of items under USD800 and brokerage fees.
You are guaranteed lower fees with Stallion Express. For a 15-inch square box weighing 30 lbs to be sent to Newark, California, you will only pay CAD20, which is way lower than a Standard Carrier's shipping rate at CAD155.76. This rate is the lowest among other Amazon-Canada FBA shipping rates.
If you are ready to partake in the convenient and cost-effective journey of using Amazon FBA, contact us at 877-863-7447. You may also visit our website to know more.
A business should be an income-generating enterprise. Realistically speaking, the market price isn't always profitable, so business owners resort to cost-cutting wherever they can, including shipping. However, going after "cheap" may not always guarantee quality. Here we discuss if cheap shipping really is the cheapest way to ship from Canada to US.
What to Watch Out for
Cheap shipping rates can be too good to be true. Even Amazon, the largest e-commerce market, struggles with logistics costs. If the rates aren't competitive, consider it your first red flag and hope you don't encounter the following inconveniences:
1. Hidden fees/surcharges
It's normal to pay extra charges on top of the regular shipping fee. An example of an extra fee is the fuel surcharge. Because fuel prices fluctuate, businesses have to adjust their rates accordingly. Another example is a remote area surcharge added to locations far from the usual route of delivery. While not considered a surcharge, you can also expect to be charged an insurance fee for high-value packages.
While the said examples are unavoidable surcharges, there are fees you can easily avoid if you hire a trusted courier. These include address correction fees, delivery reattempt or even return fees. These avoidable surcharges are often a product of negligence.
2. Delayed shipping
If you think delayed shipping merely costs you an annoyed customer, think again. To prevent crowding, cargoes are allowed to stay in ports for a set maximum number of days. The shipments should then be picked up within that window. Failure to do so will result in either a demurrage fee (if the cargo is stored inside the terminal) or a detention fee (if the cargo is taken outside the terminal for unpacking, but the empty containers were not returned).
These additional charges can range from USD 125 to USD 765, depending on the number of days exceeded. Thus, it is important to know the answer to the question, "How long does Canada standard shipping take?" The said charges are avoidable and are only a product of mishandling, miscommunication or violation of protocols.
3. Customs issues
Most shipping companies also process your customs payments and paperwork. Outside the peak months (usually the end of the year), customs clearance will only take a minimum of 30 minutes. Putting the volume aside, customs may hold your package if your paperwork is lacking, not properly filled out or needs re-inspection.
Customs issues may also arise if the duties and taxes are not computed accordingly, and you'll need to consider them when answering the question, "How much is shipping from Canada to the US?" Expect a USD 10 fee for packages worth USD 800. Anything worth less is free of duties. Anything more would cost additional charges requiring the assistance of a professional customs broker (in case your chosen courier does not offer the service).
Other Ways You Can Save
As you study how to ship from the US to Canada and vice versa, you should realize that working with a cheap courier partner can cause you more harm than good. If you're after getting a higher profit margin, here are some ways to lessen your expenses without sacrificing product quality:
Buy in bulk. The more products you buy, the lower the price will be. Buying in bulk also ensures your stock lasts longer, so you don't have to order and pay for shipping frequently.
Buy directly from manufacturers. Buying directly from a manufacturer guarantees that you get the lowest possible price because you avoid paying for additional fees that come with buying from a reseller or a distributor.
Opt for minimal packaging. Minimal packaging is the cheapest way to ship from Canada to US. It lets you avoid unnecessary expenses by paying only what the product's size and weight are worth.
Is Cheap Shipping Worth It?
Although cheap shipping can guarantee immediate relief in your expenses, you might be taking risks that will result in you spending more in the end. Nothing beats the assurance that your package will reach your buyer in the same condition that you sent it, even if it costs some extra dollars. After all, it's your business's reputation and success at stake.
If you want to find not only the cheapest way to ship from Canada to US but also the most reliable service provider, make sure to contact Stallion Express today to receive proper assistance.
Happy Victoria Day!

Here is a summary of our Victoria Day long weekend schedule:

Friday [May 21] - OPEN, Regular Hours of 11AM to 7PM.

USPS shipments received on Friday will be delivered to the carrier on Saturday as per our usual schedule.
Domestic and International shipments received on Friday will be processed on Tuesday.

Sunday [May 23] - OPEN, Regular Hours of 12PM to 3PM.

USPS shipments received on Sunday will be delivered to the carrier on Monday as per usual
Domestic and International shipments received on Sunday will be processed on Tuesday.

Monday [May 24] - OPEN, Holiday Hours of 10AM - 4PM.

Limited pickup service in GTA.
No pickup from East York and Midtown TO Drop & Go locations.
Pickups from West End route (Kitchener, Hamilton & London) operate as usual.

Tuesday [May 25] - Back to Regular Hours of 11AM - 7PM.
The most thrilling thing is growth—if you only shipped locally in 2020, you may look into expanding your business and opening your store to the international market this 2021. Since Canada and America are just a stone's throw away, you can start expanding your business to your neighboring country.
If you are among the sellers who will grab the opportunity of cross-border selling this year, we have prepared a brief overview on shipping from US to Canada customs fee and shipping from Canada to US customs fee (2021) to arm you with the knowledge you need. 
Customs fees are important because it protects the local industry, generates revenue for the economy, and shows partnership among countries through trade agreements.
Formal and Informal Entry Types
There are several US CBP entry types, but it's important to note the difference between formal and informal entries. The tax you will pay depends on the declared amount of goods you are sending. Goods less than USD800 will not be charged import tax.
Informal Entry - If you are shipping allowable items that cost less than USD2,500, there is no need for you to get a customs broker to fulfill the last stretch of processes. In this case, the receiver can pick up the items in US CBP ports as long as the items have complete documentation and permits.
Formal Entry - This classification of goods is also called Commercial Entry. A shipment with a declared value of more than USD2,500 is considered a formal entry. A customs broker will help you fulfill the added steps like securing permits and certificates from the other US departments.
US CBP may also recommend customs brokers, so it will not be difficult for you to find one. Hire a customs broker and skip the stress of accomplishing essential documentation once your goods are in the US CBP.
Taxes
There are three main taxes you should remember for your shipping from US to Canada customs fee.
Goods and Services Tax (GST) - This is the 5% tax you need to pay for all items you send into certain provinces in Canada.
Provincial Sales Tax (PST) - This 6-7% tax is charged on top of the 5% GST tax you need to pay specific provinces.
Harmonized Sales Tax (HST) - A 13-15% tax to products entering certain territories in Canada will be charged to senders.
With taxes being too high, HST can affect your business. You might consider lowering the price of your product, especially if your target buyers live in these provinces. The lowering of prices is the primary goal of HST proponents. Like other taxes, there are also exemptions to HST like groceries, medical, agricultural, and fishing needs.
Check the UMSCA agreement details and see whether or not the goods you are exporting to Canada are considered duty-free (not requiring taxes). Also, note that you cannot enjoy this benefit if you are manufacturing outside UMSCA countries. The following may also enter the border duty-free:
Products worth CAD20 or less
Gifts worth CAD60 or less sent to relatives and friends in Canada
If you are selling and shipping items like clothing, cookware, textiles, furniture, car parts, and computer-related equipment, note that you need to pay a different duty rate. The CBSA will help you calculate the tax you need to pay.
Another interesting detail about the taxation of goods is that you can be exempt from taxes if you are a resident of Canada who just returned after a few days out of the country. This exemption varies depending on the length of time you are away and the item you bring back. For instance, if you're back after 48 hours, you can bring home up to CAD800 worth of goods from another country duty-free. The CBSA and Canadian brokers can provide you with more detailed information about this.
You can request a sample computation from CBSA or the shipping company you are partnered with to get an idea of how much you will pay.
Sample Computation
To calculate the duty and tax you need to pay, you have to know about the Harmonized Tariff Schedule (HTS). Every item sent is given an HTS code, and each number represents a category of goods and a corresponding tax rate.
Final Thought
When shipping from Canada to US, customs fee knowledge is crucial. Computations may be a bit complicated initially, but understanding the basics will be helpful to your business in the long run. With the tax and duty rates in mind, you can wisely decide on the pricing of your items and how else you can make your product affordable for your target audience.
In terms of shipping from Canada to the US or within Canada, Stallion Express can be your partner. We offer cheap shipping rates that are perfect for your growing business. Call us at 877-863-7447 to inquire or know us more.
Did you know that shipping zones can affect shipping costs for eCommerce shipments? This is apart from other known factors, such as weight & size, distance in transit, and packaging. So if you think that shipping zones are only used to determine how far the destination is from the warehouse, think again because they play a crucial role in eCommerce shipping rates. Once you understand how it works, it can help your business save on shipment costs and provide better delivery times.
In this article, we're going to discuss the shipping zone, its importance in order fulfillment, and how it can reduce shipping costs for eCommerce shipments.
What Is a Shipping Zone?
One of the details asked on the checkout page is the ZIP code. It is a piece of information used by mail and shipping companies to deliver items in the most efficient way. In calculating shipping costs for eCommerce shipments, couriers use the ZIP code to determine which shipping zone your address belongs to and how much they will be charging you.
The shipping zone consists of a group of ZIP codes. Courier companies assess it by the distance between origin and destination. For instance, the United States has eight shipping zones, which are divided by miles. The nearest is Zone 1 (0-50 miles), while the farthest is Zone 8 (1,801+ miles).
On the other hand, shipping zones in Canada differ from courier to courier. For example, in UPS, postal codes from A0A–A9Z fall under 711, 411, 511, 311, and 211 shipping zones. Please take note that each shipping company has its own shipping zone convention and rates.
Shipping Zones: Its Impact on Shipping Costs for Ecommerce Stores
When asked how to calculate shipping costs for eCommerce shipments, you usually just put the package's weight and dimension into the equation. However, shipping companies also calculate the distance from point A, the warehouse, to point B, the customer.
We've mentioned before that shipping companies have their own shipping zone rate matrix. Moreover, the rate varies based on the courier's services. So it would be best if you did your homework beforehand to find out which company offers the most affordable rates.
For example, if you are going to deliver a package in Newfoundland and Labrador, UPS offers five services as follows:
Zone
Destination Postal Codes
711(Express Early)
411(Express)
511(Express Saver)
311(Expedited)
211(Standard)
Newfoundland and Labrador A0A–A9Z
$106.85 - 108.15
$64.00 - 66.05
$62.70 - 65.10
$59.15 - 61.60
$48.60 - 49.15
Note: Rates are for packages with a weight of up to 3 lb or up to 1.5 kg only. Except for shipping zone no. 211.
Based on the table above, we can surmise that UPS Standard® is the cheapest among the five, yet it will take one to two business days for the package to arrive. Take note that this is only for UPS. You must be diligent enough to compare all shipping companies to choose which one is the cheapest. Besides the distance, carriers factor in the weight of the shipment, as shown above.
For delivery times, the closer you ship, the shorter it takes to arrive, and vice versa. In this case, you have to strategize how you can shorten the delivery time without compromising the package's condition and the expected delivery time, unless the courier company offers speedy delivery services as an option, like what UPS does.
How to Work Shipping Zones in Your Favor
At first glance, it seems like shipping zones may harm your business in terms of cost and time. Is there a way to work it in my favor?
Remember the saying, "Don't put all your eggs in one basket?" This is how you should approach this matter. Let us put it this way. When you have fewer fulfillment centers, you will deal with higher shipping zones, which means more expensive shipping charges. But if you have multiple and strategically located fulfillment centers, you can target lower shipping zones, thus lower shipping charges.
Keep in mind that the shipping zone is a game of proximity and distance. So might as well have fulfillment centers in areas where your customers are mostly located. It is like following one of the golden rules in setting up a business: location, location, location.
Moreover, it improves each order's delivery speed because the distance between the fulfillment center and your customer's location is only within a nearby shipping zone.
This strategy also increases your chance to offer free shipping, which customers will always take advantage of when shopping online. You might also want to minimize the product's packaging because courier companies charge higher fees for bulky and heavy packages.
Conclusion
Now that you know the impact of shipping zones on the shipping costs for eCommerce stores, you must practice due diligence in researching the most affordable shipping rates out there. This will help you save more money, time, and resources. It would be better to tap the help of a 3PL (third-party logistics) provider since they have a connection to a network of reliable carriers that offer low-priced shipping services.
Are shipping costs for eCommerce shipments deterring you from offering free and fast shipping for your customers? Stallion Express has a range of shipping solutions perfect for new and experienced online sellers alike. For inquiries, you can call +1 877-863-7447 or email [email protected].
As the eCommerce industry continues to grow, so does the shipping industry. With more and more sellers targeting the international market, the need for a fast and affordable international shipping has become a must. Based on the study by the International Chamber of Shipping, there are over 50,000 merchant ships trading internationally. Moreover, the international shipping industry is responsible for the carriage of around 90% of world trade. However, international shipping isn't affordable.
When you're shipping from one country to another, there are tons of fees that you must pay, and these fees are paid by customers. Oftentimes, customers abandon their cart when they see the excessive amount of shipping costs. They want something fast and affordable. But, how can you offer them affordable shipping rates without sacrificing your profit margin? We'll discuss ways you can reduce the cost of shipping, international shipping priority, and how to fill out international shipping address.
What is International Shipping?
Shipping is the lifeblood of the global economy. Without shipping, global trade, transport of raw materials, and the import/export of affordable food and manufactured goods would simply not be possible. International shipping is the shipment of goods from one country to another. There are different ways you can ship your goods. It can be through air, sea, and shipping carriers.
Before we discuss each, let us give you some data on the international trading industry.
How to Reduce Shipping Cost to Give the Most Affordable International Shipping Rates
If you want to know how to reduce your shipping costs and give your customers the most affordable international shipping rates, here are some tips you can apply.
Select the Cheapest Shipping Option
Let's face it. If you want to ask your shipping carrier to lessen their delivery time, you have to pay them a higher price. If you want to pick a cheap shipping option, you may receive it after 8-10 days, which can put out your customers. This may also lead to customer service calls, cancellations, and chargebacks – not to mention the potential damage to your brand from negative social media postings. Hence, you need to find the sweet spot between speed and customer satisfaction. Choose the shipping carrier that offers you a fast and affordable shipping experience.
Avoid Shipping Surcharges by Knowing Carrier Surcharge Rules
Shipping surcharges have the potential to increase your shipping and handling costs by up to 30 percent. The best way to avoid surcharges is to know the rules . You need to know what factors affect surcharges, so you can avoid them. Another way to avoid shipping surcharges is to use multiple carriers.
Each carrier has its own book of shipping rules, rates, and scenarios that drive up shipping costs. Since carriers don't have the same surcharge rules, you can pick which carrier can ship a particular product to avoid added costs from another carrier. This allows you to save on shipping costs and give the most affordable rates to your customers.
Understand the Different Pricing Models for Shipping Savings
There are different pricing models you can offer to your customers. You can offer them a flat-rate shipping rate or weight-based shipping rate. Depending on how far your product is being shipped and what it weighs, flat-rate shipping could be a better option. Another one is cubic shipping, which provides an opportunity for savings, especially if you're shipping heavier objects.
Choosing the right pricing model depends on the package, location, and weight of the item. There is no easy answer for choosing a pricing model because you have to pick what's best for your orders. But, do remember that picking the right pricing model helps in lessening the shipping cost, thereby offering your customers affordable shipping rates.
What you can do is to provide them with different pricing models. You can offer a flat-rate shipping rate for products that have the same sizes and weight while offering weight-based rates for shipments traveling short distances.
Control Product Packaging Costs
Product packaging is one of the factors that affect shipping costs. The heavier and bigger are your packaging materials, the higher your shipping cost. To reduce the cost of shipping, you need to use the smallest, most lightweight, economical materials. Many shipping companies offer free boxes and materials that you can use. Moreover, you can use these tips to reduce the weight of the packages.
Change or remove insert cards - Instead of placing the thank you card in an envelope, it's best to remove them and place the item as it is.
Change the packaging tapes - Instead of using that heavy wet brown tape, you can try using another one that will help you get your package down into the previous price bracket.
Use a smaller or customized package - Instead of using a standard-sized box, you can try using a custom-sized box that fits your products.
Work with multiple suppliers.
There's no rule in eCommerce that you only have to work with one supplier. In fact, diversification is an excellent strategy for finding the best products at the best prices. This also applies to ship costs. You can look for a supplier that offers low goods and shipping prices. If one doesn't work for you, you can always look for another one.
This is also a sound strategy in today's economy. With coronavirus hitting businesses, the suppliers that you currently have could face a halt in production at any time. Instead of stressing over your lack of inventory, you can look for other suppliers. They may even give you affordable shipping rates.
Nurture Supplier Relationships
As the COVID-19 pandemic hits the world, every business is affected. Due to this, relationships between a supplier and retailer are becoming more important than ever before. We all know that a successful business is built on strong relationships. Your store wouldn't expand without your customer's patronage—the same way with your suppliers. Without them, you wouldn't have anything to sell. Hence, you need to foster a positive working relationship with them.
Reach out to your suppliers, and ask how they're doing during this time. Doing so opens the conversation to shipping costs. This is important, especially if your supplier directly ships to Amazon's warehouses, or your business model is dropshipping. When your supplier trusts you, they are open to new ideas and can help you brainstorm ideas to minimize packaging, get better rates from carriers, or source from different fulfillment locations if available.
Negotiate shipping rates with suppliers
Speaking of supplier relationships, you need to put your business hat on and negotiate shipping rates. Talk to your supplier about discounted rates in exchange for a monthly order minimum. Or if they can take on more of the shipping costs in exchange for a constant order volume. Be assertive and respectful when you negotiate the prices. You can even ask them to use affordable packaging materials to lower the shipping cost.
Negotiate with multiple carriers
Aside from suppliers, you also have to negotiate with shipping carriers—the same way with suppliers. You can negotiate for lower shipping costs for a certain volume of orders shipped monthly. Besides, the more you ship, the lower your rate. If you ship large numbers of packages, compare prices and try to persuade carriers to offer you lower rates.
When you are negotiating your prices, you need to give them clear data about your business. The stronger your data is, the more negotiating power you have. Talk about the following when you present your report:
The average number of packages shipped each month
The average weight per package shipped
The average delivery zone
Aside from providing them a report of your shipping volume, you can also use these proven negotiating tactics.
Read the terms and agreement - Check the fine print for spending minimums and surcharges that may affect your negotiated deal with the carrier.
Look out for guaranteed volume penalty clauses - Look for this part because it may affect your profit margin when you fall behind the threshold.
Communicate clearly. You want to be crystal clear about the negotiation's timeframe, so things don't linger on.
Feel free to add any other information that can be helpful with your negotiation. Remember, your carrier wants to know what you can offer to them. Adding some brand partnerships might sweeten the deal for them.
Charge more for product prices
If you ask your customers whether they like paying for shipping, they would ask no. A study from the National Retail Foundation (NRF) found that three-quarters of consumers believe shipping should be free. That's why when they see an exorbitant amount for shipping, they would often leave their cart. To avoid these scenarios, you can raise your prices to cover the shipping cost. It is an effective way to lower cart abandonment, save money, and raise your sales. Plus, your customers wouldn't even notice it! Just don't raise them too high that they would pick other store's products.
Prepaid shipping
Prepaid shipping can get you up to 20% off shipping costs from UPS and FedEx simply by purchasing a certain number of shipping labels upfront. You don't need to label the boxes upfront since you can always insert them once an order has been made. However, this only works when you consistently ship orders containing the same weight and dimensions.
Questions You Need to Ask to Save Money on Shipping Cost
Aside from the tips above, you also need to answer these questions for you to better understand your business and how you can find ways to reduce shipping costs.
How are you charging for shipping?
The amount you charge your customers affects your profit margin. If they see that your shipping fee is high, they will abandon their cart and choose another store. Offering them free shipping can be a major expense for your small business. Consider these ideas to lessen the shipping cost:
Adjust the product price to make up for the reduced shipping cost.
Offer a flat-rate shipping fee for orders of the same size and weight.
Require a minimum amount of money to be on each order to avail of free shipping.
Are you using the right packaging?
Many businesses make packaging mistakes, such as using boxes instead of a padded envelope to decrease weight and dimensions. These mistakes often result in high shipping costs. Hence, if you want to decrease your shipping cost, you need to avoid these packaging mistakes.
Try ditching fancy packing supplies when you are packing your orders. A customized box is enough. Also, if you want to use customized branded boxes, make sure the dimensions don't fall outside of standard box sizes because you may be charged with additional fees.
Where are your orders going to be shipped to?
Knowing the partners in shipping destinations can help you identify the cost of shipping from one place to another. This is extremely helpful for international shipping tracking and helps you decide if you want to work with an international fulfillment provider or not. Plus, you can use an international shipping rate calculator to compute the cost.
Have you tried another shipping carrier?
If your allegiance is only to one shipping carrier, then you may consider looking for other options. There's nothing wrong with talking to other shipping carriers. It allows you to compare the services and rates they offer. Plus, you can get cheaper rates than what you're currently paying.
Conclusion
Reducing your shipping cost doesn't only mean knowing the factors that affect your shipping costs, but it's about choosing the best option for your store. We know that you want to give the best service and products to your customers; hence, giving them a fast and affordable shipping service is a must. It's a good thing that here at Stallion Express; we can offer you high-quality services for an affordable price. If you want to know more about our shipping services, contacts us now!
Establishing your own business puts you in a different mindset. You may feel challenged on several processes, such as arranging logistics for your goods. To save resources and ensure on-time deliveries, you can turn to Amazon international shipping.
Sellers work differently and radiate different energies towards their business and market; some engage with their customers as if they're interacting with them personally, while others keep it strictly professional, barely sharing any information at all. As a seller, connecting with your customers is a must. Put their minds at ease by relieving concerns, answering frequently asked questions such as "Does Amazon ship internationally?" or "Are there any hidden charges?"—it's the least you can do.
With the eCommerce giant helping out small businesses and aspiring entrepreneurs like you, reaching more customers has never been easier. Make your mark on the global market through Amazon's undeniable worldwide presence, but not without going through this Amazon international shipping guide first.
How much are the Amazon international shipping rates?
As you put up your business on Amazon, you also search for couriers to help you transport your customer's orders. Different shipping companies charge differently depending on which areas you'd ship to. You'll also need to take note of the kind of item you wish to deliver (perishable, fragile, etc.), dimensions, and even declare the value of the product.
Here's a handy table of Amazon international shipping rates to guide you in managing your logistics.
Just remember that not all shipping options are available in all areas mentioned.
Tips and tricks with Amazon international shipping
One of the things that sellers should consider shipping items is what happens after:
What problems could arise that would delay the delivery of your products? How do you guarantee that the customers' orders will not get lost? What do you say to keep their trust despite minor hiccups?
Sellers need to keep constant communication with their customers to prevent any negative feedback or dissatisfaction. But even if you feel dismayed or disappointed with conditions beyond your control, never let your customers feel that. They need to feel assured that you're on top of everything and that they'll receive their orders as soon as possible.
What do you need to do?
In order to keep your customers calm and satisfied, you need to follow these tips.
Provide regular updates
The moment you see a delay in your customers' orders, make sure that you reach out to them and update them of their order's status. Update them at once if some items are currently unavailable. Send a quick message once their order has been picked up. Finally, let them know that you appreciate them for ordering from your shop.
Be transparent
Send photos of the item as you prepare it and once it's picked up. Teach them how to check their order status with Amazon's order tracking feature and always keep communications open. By maintaining direct contact and answering your customer's questions personally, you're less likely to get negative remarks publicly visible on your online shop.
Can Amazon ship internationally?
Yes. Amazon ships to over a hundred countries and other regions that are subject to Amazon Global. Make sure that the items you list on your store are eligible for Amazon Global. If you sell perishable goods, then the covered areas will be limited to avoid expiration en route.
How to avail of Amazon free international shipping?
When your customers place an order that meets specific requirements and the destination is one of the listed locations upon checkout, they become eligible for free Amazon international shipping.
What qualifies for Amazon international shipping?
If the product can be shipped to a recognized address from the locations listed
If the product passes the free shipping order minimum conditions per area
Takeaway
Amazon international shipping aims to help deliver your items to your customers by working with other providers. The industry-leading eCommerce platform helps you bring happiness to your customers by delivering orders safely and promptly across the world.
When you familiarize yourself with the different accredited locations for Amazon international shipping, you'll be able to grow your business efficiently. Always remember that being transparent and keeping communications open with your customers is key to keeping their trust.
Q4 is the busiest period every year in the realm of shipping and online selling. It is the time of shopping holidays, starting in October until December, such as Cyber Monday, Black Friday, Halloween, Green Monday, Free Shipping Day, Super Saturday, Boxing Day, and Christmas. It may mean more sales as a seller, but that would be possible if you successfully ship orders on time. Courier companies are aware of how hectic this quarter is, that is why express shipping Canada Post, USPS, FedEx, and others exist.
Q4 2020 holiday shopping schedule
As a refresher, here are the holiday shopping dates that you should anticipate and prepare for:
Halloween
When: October 31, 2020
This holiday is famous for spooky costumes, candies, and decorations. Halloween is primarily a fun day for children, but adults are also catching up, especially those who want to flaunt their costumes and go to parties. Other than that, households are also busy garnishing their houses with supernatural decorations.
Black Friday
When: November 27, 2020
Amazon introduced Black Friday in the U.K. in 2010. It is the day of significant discounts and irresistible deals to customers. However, there are rumors that Amazon moved it to October 26, 2020, based on Techradar news.
Cyber Monday
When: November 30, 2020
This shopping holiday began in 2005 when one of the National Retail Federation departments, Shop.org, launched it to match the Black Friday frenzy. "Cyber" doesn't refer to electronic products or gadgets, though. It is created to target employees while working since many of them will be at their computers.
Green Monday
When: December 14, 2020
According to Investopedia, Green Monday is one of the retail industry's most profitable days, usually on the second Monday in December. It is also called Cyber Monday 2 due to high online sales volume.
The word "green" refers to the color of dollars. But others believe that it is related to the eco-friendliness of online shopping.
Free Shipping Day
When: December 15, 2020
The National Day Calendar defines this Free Shipping Day as "an annual one-day event held in mid-December" where "consumers get to shop from large and small online merchants that are offering shipping with a guarantee of delivery by Christmas Eve.
Super Saturday
When: December 19, 2020
This day is considered as one of the most hectic shopping days in Canada. It is also gaining popularity in the U.K. and the U.S. Super Saturday is followed by Super Sunday, where discounts are bigger to attract impulsive buying.
Boxing Day
When: December 26, 2020
While it is losing its appeal to some nations, it remains popular in Australia, New Zealand, and Canada, where it is observed. The term "boxing" pertains to the "Christmas box" or the gift itself.
Now that you have the schedule of shopping holidays, next is choosing the express shipping solution that is right for you.
Express shipping solutions you can choose from
Fortunately, there are several express shipping solutions you can opt for depending on your business needs.
Express shipping Canada Post
The government-owned courier company offers two types of express shipping, namely, Xpresspost and Priority. In Xpresspost, buyers can receive their orders the next day or in the next two days. On the other hand, Priority is much faster because the delivery arrives the next day.
Express shipping USPS
The U.S. Postal Service (USPS) has Priority Mail Express that delivers overnight to two days. However, it only accepts parcels weighing a maximum of 70 lbs. For international shipments, they have Global Express Guaranteed that ships orders in 1-3 business days.
Express shipping FedEx
There are three express shipping choices, which includes FedEx First Overnight, FedEx Priority Overnight, and FedEx Standard Overnight. The three guarantee a next-business-day delivery. It only allows packages that weigh up to 150 lbs.
Express shipping UPS
It has both the same day and next day shipping services. For urgent orders, there is the UPS Express Critical, which ships lightweight and heavyweight deliveries. While UPS Next Day Air Early, UPS Next Day Air, and UPS Next Day Air Saver.
Express shipping DHL
It has three delivery time options: DHL Express Domestic, DHL Express 12:00 Domestic, and DHL Express Worldwide. DHL Express accepts parcels with 66-154 lbs. just like the shipping companies above.
The US to Canada shipping cost
The shipping cost depends on the delivery company you have chosen. However, bear in mind that additional fees such as sales tax, duties, and customs fees are all in Canadian dollars. Even though Canada and the U.S. are neighbors, it is still considered as international shipping.
But did you know that there is a solution where you can be almost entirely hands-free on the order fulfillment process? It is no other than Amazon FBA (Fulfillment by Amazon). In this program, Amazon picks, packs, and delivers your orders. They also handle the customer service and returns process.
If you are shipping internationally, this program offers the Amazon FBA Export. When you choose this one, you don't have to pay for the customs fees because your customers will shoulder it.
Key takeaways
Due to the compressed and fast-paced nature of holiday shopping dates, you need a flexible shipping strategy, especially now that you need to survive this pandemic. You may consider Amazon FBA Export as your plan A since this program is known for its fast delivery services. On the other hand, choose from among express shipping Canada Post, USPS, UPS, FedEx, and DHL as your backup plan in case delivery delays arise. If you want to win your customers' trust and business, you should have proactive solutions to keep up with the so-called holiday rush.
Express shipping Canada Post is not only your delivery solution this upcoming Q4. Stallion Express is willing to assist you with your international shipping needs. For inquiries, you can call +1 877-863-7447 or email [email protected].
Congrats, you've made a sale! And, whoa, the order came from an international customer. It is like you've hit the jackpot when a customer from another country patronizes your products. It just means they acknowledged how awesome your product is. But don't rejoice yet because they expect the product to be delivered to their home, which is located thousands of miles away. Now is the start of the hunt for the cheapest international shipping.
Wait. Is there such a thing as cheapest international shipping? Delivering packages abroad has never been cheap, but shipping fees can be reduced, here's how:
1. Search for couriers that offer flat-rate shipping
If you want to save yourself the hassle of calculating mailing costs and determining each package's weight dimension, choose flat-rate shipping because of its more straightforward approach. You don't have to make adjustments as it doesn't depend on the item's size, shape, or weight. Moreover, it is cheaper than shipping based on weight. Your customers will also be grateful to you since they know how much they will spend on shipping costs without any surprise at the checkout page. Remember that shoppers don't like any surprises when they are ordering. Be as transparent as possible.
2. Purchase inventory in bulk
Similar to when a customer is ordering online, the more you buy, the higher the discount. You know that since you've been doing a lot of promotions to advertise your products. This is why it is essential to ask the courier or shipping company first if they allow shipping items in bulk at a reasonable discounted price.
3. Reuse shipping supplies
You need to be shipping-savvy if you want to get the cheapest international shipping. One of the ways to do this is repurposing the boxes and shipping materials you have received. However, make sure that they could pass the packaging requirements for international shipping. For example, don't forget to rip off the old shipping labels before placing your own.
4. Use environment-friendly packaging
Since we are on the topic of recycling your old shipping supplies, why not be an all-out Earth warrior by utilizing eco-friendly packaging? Contrary to what others believe, nature-friendly packaging is more affordable than traditional packaging. Examples of eco-friendly packaging are biodegradable packing peanuts, corrugated bubble wrap, cornstarch packaging, mushroom packaging, seaweed packaging, and organic fabrics. You will not only help reduce carbon footprint but also show customers that you are environmentally conscious.
5. Maximize your packaging
You've already recycled your old packaging. Now, incorporate eco-friendly packaging in your shipping materials. What you need to do is to reduce the size of the box and shipping weight to avoid additional charges from your courier in case you don't opt for flat-rate shipping. The boxes must fit your products but can still keep the item securely. If you don't fancy environmentally friendly packaging, you may also consider your chosen courier's standard size packaging so you can save time and money sourcing custom box sizes.
6. Ship a bit slowly but surely
Customers hate slow deliveries, right? Not exactly. What they hate is the delay in shipment or orders that they have never seen in the flesh. You are good as long as you provide them with accurate and realistic shipping information when their delivery will arrive. No hidden fees. No shipping delays. No surprises. They also want to be presented with various delivery options like air international shipping, ground shipping (for local deliveries), and sea shipping.
7. Door to port international shipping
If you are conscious about delivery times, find a courier that offers door to port international shipping. It is a shipping type where the freight forwarder picks up your package from your door (or office) and delivers it to the seaport at the destination.
8. Get shipping insurance
Avoid unexpected and unwanted costs due to lost, stolen, and damaged goods by investing in cargo insurance. However, keep in mind that while couriers offer services that can protect your packages, it is only in the form of declared value coverage and not shipping insurance. Declared value coverage or liability insurance sets only a specific amount on how much it can cover many exclusions. But with shipping insurance, you will get a complete and comprehensive level of protection that provides you with greater peace of mind.
Wrapping up
If you are still having a hard time reducing your shipping cost, don't hesitate to get help from experts who have vast experience and knowledge in getting the cheapest international shipping. When it comes to meeting your customers' expectations, you should not gamble with the order fulfillment part of your business. Yes, you can still try the tips above, but it would be better to develop a reliable international shipping strategy based on an expert's opinion.
Look no further because we offer the most reliable and cheapest international shipping in the market at Stallion Express. We also provide full tracking options and returns service. For inquiries, you can call +1 877-863-7447 or email [email protected].
Amazon FBA shipping rates can inadvertently hurt your bottom line. In general, shipping your inventory can be expensive. Besides Amazon FBA fees, you need to invest in high-quality packaging materials and hire a reliable freight forwarder. It would be more challenging when you are planning on selling on Amazon.com and shipping to Canada. This is why it is crucial to choose the right shipping method and shipping carrier.
This article will discuss how to cut your Amazon FBA shipping rates, how much is Amazon shipping, and a brief overview of how to prepare your first shipment.
Shipping method: SPD or LTL?
SPD (Small Parcel Delivery) is for shipments with less than 30 cartons. Meanwhile, LTL (Less Than Truckload) can carry more than 30 cartons of shipment. So, which one is cheaper? Let's differentiate the two.
Use SPD if:
The shipment is time-sensitive.
The packages must follow the dimensional (DIM) pricing restriction.
The packages weigh less than 150 lbs.
Use LTL if:
You are looking for a lower-cost option for your palletized shipments.
The shipment is bulky.
You want to get a discounted rate when you meet your volume quota.
On top of that, you will only pay for the space you occupied in the trailer in LTL, but expect to share the whole truck with multiple shippers. Also, it requires that your shipment weighs from 150 lbs. to 15,000 lbs.
Moreover, LTL is more secure since each truck contains well-stacked pallets. It is also eco-friendly since multiple different shipments use the same truck, thus reducing the carbon footprint.
Shipping carrier: Amazon-partnered carrier or other carriers?
We advised you to opt for Amazon-partnered carriers if you don't want to deal with the erratic changes in shipping fees of non-partnered carriers. According to Amazon.ca, Amazon-partnered carriers "offer deeply discounted rates, and the cost is billed to your account as an 'Inbound Transportation Charge'."
Besides being less expensive, Amazon-partnered carriers have several advantages. Amazon will process your deliveries right away and make your inventory readily available whenever someone orders your products. They also offer competitive and negotiated Amazon FBA shipping rates with UPS, their preferred carrier partner.
Furthermore, Amazon will cover for lost or damaged inventory as per its standard FBA policy. Yup, it is like having an insurance shipping policy for your goods. Also, you can bail out any time if you are not satisfied with Amazon-partnered carrier's service.
Transportation method: sea freight, air freight, or air express?
This one is tricky because each option has its pros and cons. And it also depends on your goal: To reduce shipping cost or to reduce the delivery time?
If you want to lower your Amazon shipping costs, choose sea freight or maritime shipping. Global Trade advised, "Sea freight is much more affordable and, consequently, the number one choice of a vast majority of clients." It is like the model of LTL, where you are sharing the cost of the specific vessel.
But note that it is the slowest among the three because the lead time is usually around 30 days. Despite this drawback, maritime shipping is the most eco-friendly among the three. Airplanes give off 500 g of CO2 per metric ton of cargo per km of transportation, while sea vessels emit only 10-40 g of CO2 per km.
On the other hand, if time matters to you the most, go for air freight or air express. But what is the difference between the two?
Air freight's cost is calculated by the size, weight and destination of the shipment, and it is more expensive than sea freight. The lead time takes about 7-14 days. Alternatively, air express is the fastest but the most expensive transportation method. You can utilize this when you want to replenish your stock or for urgent orders. The lead time for air express is around 4-7 days.
So, if you are budget-conscious, you must plan ahead of time when sending your cargo via sea freight. Ensure that you have proper preparation and planning. Or better yet, work with an experienced logistics company that can expertly handle your shipment.
What about cross-border shipping?
In case that you are selling on Amazon.com and shipping to Canada, you might consider cross-border shipping since Canada and the U.S. are practically neighbors. But is it cost-effective?
Cross-border shipping is like road freight or ground shipping, which is a way of transferring goods at an affordable price. You only need to pay for the gasoline, driver's time, and maintenance fees, unlike air freight's expensive airline fuel. Further, launching an international expansion or trading in the global market is easy with cross-border shipping.
How to create a shipping service on Amazon?
Here is the step-by-step guide in creating a shipping service:
1. Log in to Seller Central.
2. After you created a new shipping plan, go to the Prepare Shipment page.
3. Select your desired shipping method (SPD or LTL).
4. Select your preferred shipping carrier (Amazon-Partnered Carrier or Other carriers).
5. Complete the next form called Shipment Packing.
6. Hit the Confirm button in the bottom right corner.
7. In the fourth section called Shipping Charges, you can estimate or check your Amazon FBA shipping rates.
8. Fill out this section and hit Calculate. Do not accept charges if you have not decided yet.
You may try comparing Amazon shipping costs by switching your options for shipping methods and shipping carriers to develop a cost-effective delivery strategy. After you have accepted the charges, you can now download and print your shipping labels.
Conclusion
But how much is Amazon shipping, and what is the overall cost-efficient shipping plan?
We may not have an exact answer to this burning question of yours because there are several factors to consider, like the type of shipping method, shipping carrier, and transportation method. We can suggest that you try an Amazon-partnered carrier LTL via sea freight shipping strategy to slash your Amazon FBA shipping rates. However, it still depends on your business' requirements and goals. Because at the end of the day, you need to decide what will be advantageous not just for your business but also for your customers.
Do you want to save more money from your Amazon FBA shipping rates? Stallion Express has a dedicated and experienced team willing to assist you with your Amazon FBA needs. For inquiries, you can call +1 877-863-7447 or email [email protected].